SCGA Junior golf instructors have been given a unique homework assignment – one that has them packing up their (golf) bags and hustling to make the first-period bell.
They have been tasked with helping several local secondary schools – John Glenn High School, Bell Gardens HS, Bell HS, La Habra HS, St. Mary's HS and La Serna HS – enhance their beginner golf programs.
All four of SCGA Junior's full-time instructors are lending a hand in the development of junior golfers at these schools – the majority of which come from under-reached communities.
"Each of the schools that we're working with has its own golf coach," said Kaycee Wilke, director of player and youth development, SCGA Junior. "But in most cases, they lack the necessary skill set to develop their students at a high level. That's where our TPI-certified instructors come into play."
SCGA Junior provides the means of that development, holding team practices at Don Knabe Golf Center and Los Amigos GC after school.
"Their progression has been night and day," said Bell Gardens High School Coach Joe Jordan. "SCGA Junior does everything, basically. I don't know that much and I'm certainly no expert. I would have paid any amount of money for their support, but they've been so gracious."
Along with the instruction, any students without equipment are provided with a set of clubs upon arrival. Each one of the participating students is also offered access to brand-new discounted equipment through the SCGA Junior's Equipment Program.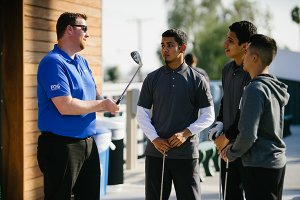 "It's so easy to just show up and play," said Javier Gonzalez, Bell Gardens HS student. "I'm really grateful for SCGA Junior because not only are they teaching me how to play golf, but they're also providing clubs and a practice range!"
In addition, every student also receives the instruction golf pass, which affords a player discounted access to all three player development sites in the region for $1-5 green/range fees.
"We have about 3,000 students at Bell Gardens High School but seriously only one single true golfer," said Coach Jordan. "I would have never expected my team to fall in love with the sport without SCGA Junior's support. My kids are going out and practicing on their own! Unbelievable, to be honest."
Another benefit of this program has been the relationship-building amongst the students from the various schools. Once rivals, these students have been brought together to practice, compete and mesh with one another in a fun learning space.
"That's one of the best things to see," said Justin Doyle, SCGA junior golf instructor. "All of the kids from each school get to meet one another and build bonds that'll last outside of the golf course. It's fulfilling."
A microcosm of the entire SCGA Junior mission, this program will continue to engage under-served youth in the lifelong benefits of golf.